How to Give a Better Speech:
Lessons From an Obama Speechwriter
In this series of multimedia keynote presentations and hands-on workshops, Terry Szuplat shares the lessons he's learned in his 25 years of speechwriting, including nearly eight years as a White House speechwriter for President Obama.
"For me, Terry Szuplat's speechwriting workshop was a truly life-changing experience, both professionally and personally. I highly recommend Terry as a teacher and trainer for leaders who want to make a real impact in the world."
"As a CEO, Terry's presentation helped me to better understand how to connect with potential clients through powerful storytelling."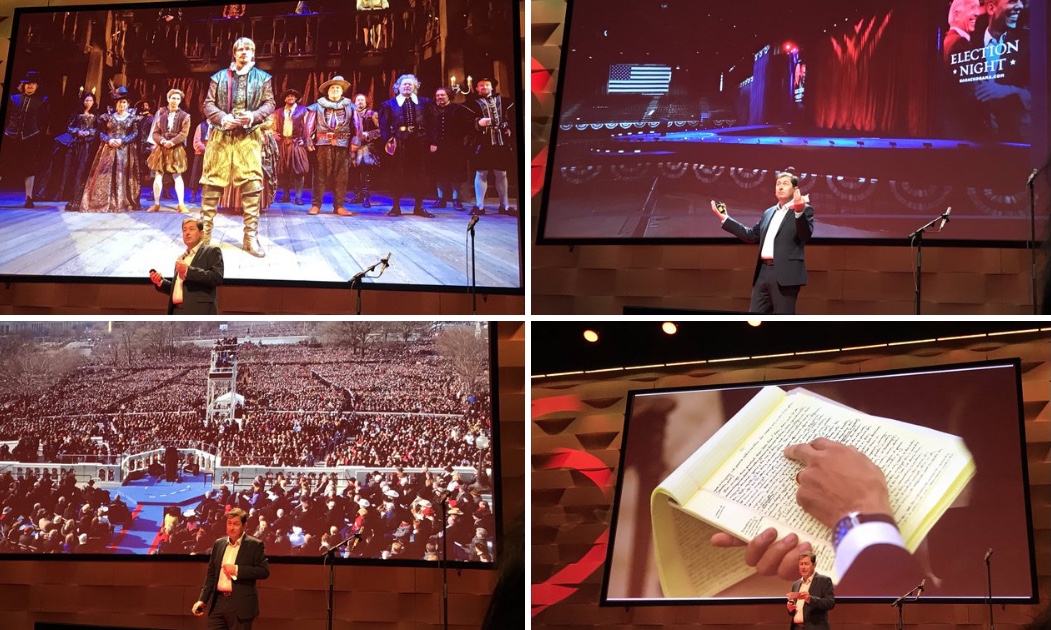 Drawing on his experience as one of President Obama's longest-serving speechwriters–helping to craft nearly 500 speeches during visits to more than 40 countries–Terry brings audiences inside the White House, goes behind-the-scenes of writing presidential addresses and shares the secrets that help speakers connect with their audiences and inspire companies and communities to action.
"Terry drew a 7-hour sold-out workshop on 'The Art of Speechwriting,' and there were so many useful lessons, from work to life."
"Through Terry's lessons, anyone can understand how to structure a speech or a presentation to deliver emotion and make a lasting impact with their audience."
Keynote: "How to Give a Better Speech: Lessons from an Obama Speechwriter" – In this 60-minute multimedia presentation, Terry Szuplat shares the secrets of great speeches that we should all seek to replicate and common mistakes that we should seek to avoid. In a special keynote tailored to business audiences, Terry discusses how executives and employees can improve their external and internal communications, enhance their company's brand and stand out from the competition.
Keynote: "Find Your Voice, Change the World" – Coming soon. 
Half-Day Workshop: "The Art of Speechwriting" – Coming soon.
Full-Day Workshop: "From the Page to the Podium" – In this six-hour, interactive, multimedia workshop, Terry Szuplat guides participants through every step of the speechwriting process—from the page to the podium—from appreciating the "Barriers to Persuasion" to understanding what we need to "Know Before We Write." During the second half of the workshop, participants apply the lessons they've learned by drafting and editing an actual speech in real-time, culminating with presentations where speeches are shared so that participants leave with practical steps they can apply at work and in life.
Testimonials
"Brilliant!"
"Incredible."
"Truly inspiring!"
"Beyond amazing."
"Extremely moving."
"Captivating and informative."
"Inspiring, funny and relatable."
"A privilege that I will cherish forever."
"Fascinating. I enjoyed every minute."
"Insightful, entertaining and inspiring."
"I was mind-blown by your presentation."
"Thank you very much for an inspirational day!"
"One of the highlights of my academic experience."
"Interactive and lively. I feel rebooted in many ways!"
"Wonderful presentation, rich in substance and highly energizing."
"This encouraged me in so many ways as an influencer, coach and speaker."
"Writing is hard for me, and I was inspired by the process of writing a speech, piece by piece."
"Terry took us on a journey about what it meant to be an Obama speechwriter for eight years." 
"This was the most useful and entertaining speechwriting training I have attended in recent years."
"As a speechwriter, I cannot imagine a better use of my time than a day spent learning from Terry."
"Engaging, thought-provoking and sprinkled with many moving moments from an historic presidency."
"You told us a fantastic story, truly touched our hearts and, yes, I think the world became a little bit better today."
"The combination of speechwriting advice and Obama-based content was like being at an all-day World Cup final!"
"This course taught me a structured, methodical approach to writing inspirational speeches that work in so many contexts."
"As an entrepreneur who works to empower women, Terry showed me that with words I can have more impact and help my clients reach financial freedom."
"Terry received the only standing ovation at our event, and I understand why. I would highly recommend Terry as a keynote speaker, workshop leader and communications expert."
"It's not often you get to learn about the art of speechwriting from someone who's been through the mill and back as many times as Terence Szuplat. What an amazing workshop."
"I'm a CEO of two international companies, and Terry's presentation changed how I think about the role and impact of speeches. With Terry's guidance, I'm confident that my speeches will now reach a broader audience and help me connect with customers in a whole new way."
"I would recommend participating in Terry's workshops or keynote presentation to anyone who desires to learn how to structure a message like Obama, and what it's like to work right next to him. I assure you that you will leave the session with new insights and a newfound appreciation for the art of speechwriting."
A Sample of Groups That Have Hosted Terry Szuplat
Harvard Law School
Yale Law School
United States Military Academy at West Point
Columbia University School of International and Public Affairs
Columbia University School of Professional Studies
Georgetown University
The George Washington University
The Elliott School of International Affairs, The George Washington University
Northwestern University
American University
Sine Institute of Policy and Politics at American University
University of California, Los Angeles
College of Southern Maryland
ALSAC/St. Jude Children's Research Hospital
Pacific Northwest National Laboratory
National Security Action
Summer School of Rhetoric, Finland
You can reach Terry directly by phone, email, or by filling out the form below: